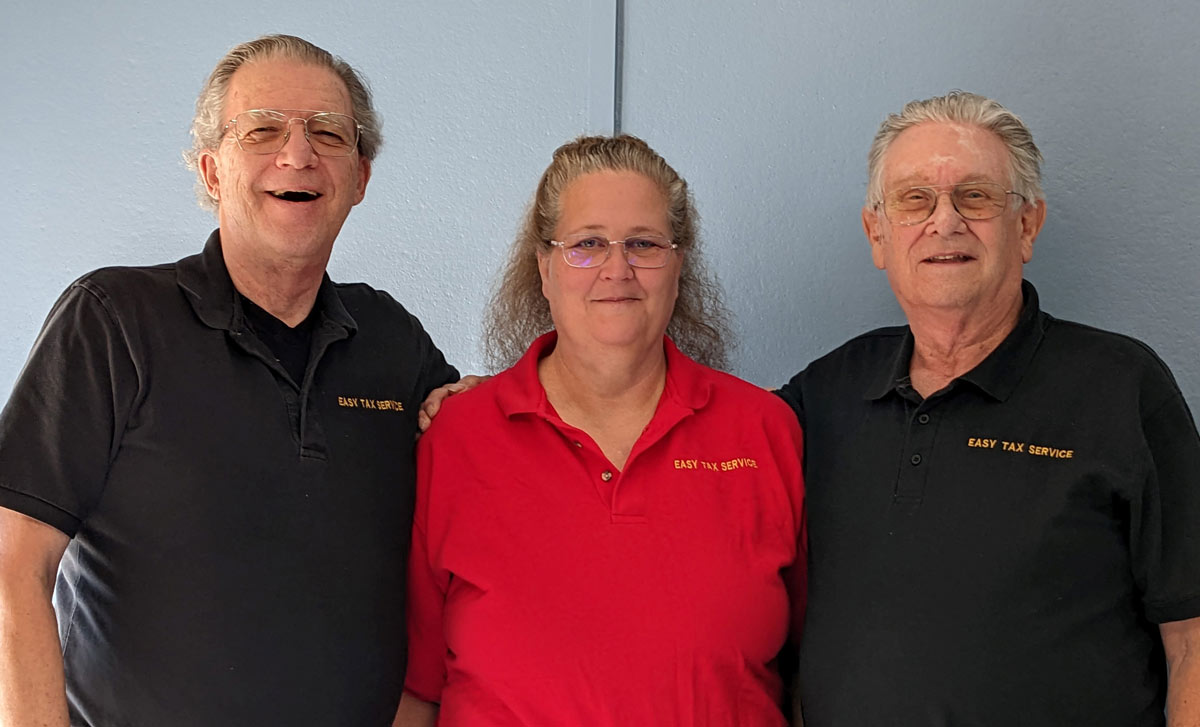 Harold E. (Hal) Fischer
After growing up in the Buffalo, NY, area and serving in the United States Navy during the Vietnam conflict, Hal returned and worked in the telecommunications field. He worked for a large utility before starting his own firm. During tax time, he had a firm in the area prepare his taxes. However, he always prepared them himself to compare with the return he paid the firm to prepare. The firm's owner said that the results were the same.
In 2004, Hal moved to Prescott Valley, Arizona, to be near his son's family. When he sent his documents to have the New York firm prepare his taxes, the owner suggested he open a franchise in Prescott Valley, where over time he had several branches. During the recession in 2008-2009, he consolidated back to only one office. In 2011 he left the franchise and opened his own office under the name of Easy Tax Service going from about three hundred clients to over eight hundred in 2018.
Business continued to increase so Hal hired Jeanette Fosnough in January 2018 and incorporated in June 2018. Hal hired Bob Pavicic in January 2019. By the end of the 2021 tax season in Apr 2022, Easy Tax Service has well over one thousand clients.
Robert D. (Bob) Pavicic
Although Bob was born in Long Beach, California, he was raised in various places in California and Ohio. After high school in Riverside, California, he went to university, but the Vietnam conflict interfered. He served in the United States Army in Germany. He returned to California and was employed as an Air Traffic Controller with the Federal Aviation Administration.
During his time in the FAA, he was also employed part time starting in 1982 as a tax preparer. In 1988 he passed the arduous exams to become an Enrolled Agent which permits him to not only prepare tax returns, but also to represent clients before the Internal Revenue Service. About this same time, he left his part time tax employment and started his own firm, Pavicic Tax Service. He kept this firm small, never having more than one hundred clients since he was still with the FAA as an Air Traffic Control Specialist (providing, among other services, current and forecast weather information to pilots) but he does have clients in several states across the United States.
Always keeping busy, he graduated from California State University at San Bernardino with a BS in Administration with an emphasis in Accounting. Then he graduated from Western State University College of Law with a JD. But, he decided against becoming a lawyer.
In 2007, Bob moved to Prescott Valley due to the take over by Lockheed Martin of the FAA's Flight Service option and its move of the facility to Arizona.
In 2018, the facility in Prescott Valley closed and Bob did not want to retire so he contacted Hal Fischer about joining Easy Tax Service. Hal hired Bob in January 2019, and, because he knew a good company when he saw it, Bob purchased half of Easy Tax Service in January 2020.
In September 2021, he received the designation of Certified Tax Representation Consultant (CTRC) from the Tax Representation Network. In December 2021, he received the designation of National Tax Practitioner Institute Fellow (NTPIF).
Jeanette Fosnough
Jeanette was privileged to be born in Germany to an American Army family. She returned to the United States and lived in many locations. Her family eventually moved to Prescott, Arizona.
After high school, she went to Lamson Junior College in Phoenix and received her certificate for accounting. She has been a bookkeeper and has done accounting since 2005. She has been a tax preparer since 2007.
She is proficient in ASL and is an interpreter for the deaf since 1983. Since 2013, she has been a Notary Public.
Each year she takes coursework to improve her tax knowledge and is currently studying to become an Enrolled Agent so she may represent clients before the IRS in Tax Matters.
She has lived in Prescott Valley, Arizona, since 2005.
She is the mother of two children and has six grandchildren.